Hyundai Motor Company and Seoul National University Establish Department of Future Mobility Contracting
Hyundai Motor Company and Seoul National University will establish a master's program in contracting to foster future mobility talent. The Department of Contracts was opened to foster world-class engineering leaders in response to changes in the mobility industry due to the acceleration of software-defined vehicle development, and to secure a global technological edge in future mobility. The class of 2024 will be recruited later this year, and 20 top talents will be selected each year thereafter. Students will complete a two-year master's program before joining Hyundai Motor Company. Students receive a full tuition scholarship and have the opportunity to participate in research projects, travel abroad, receive on-the-job mentoring, and advance to PhD programs for the best candidates. "The future of mobility is driven by electrification and software talent in SDV. We will continue to support the development of talented individuals through hands-on training." said Yonghwa Kim, President of Hyundai Motor Company.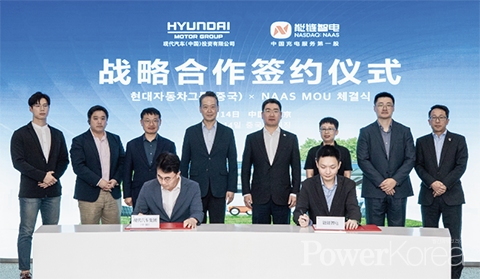 Hyundai Motor-NaaS signs business agreement for electric vehicle charging service in China
Hyundai Motor Company signed an MOU with NaaS, a Chinese electric vehicle charging information service, on August 14 at NaaS' headquarters in Beijing, China, in the presence of Hyundai Motor Group China, HMGC Executive Vice President HyukJun Lee, and NaaS CEO Wang Yang. NaaS currently has information on 55,000 charging stations and 400,000 chargers across China. NaaS developed its own self charging robot and unveiled last March. The two parties will combine Hyundai's connected service platform and NaaS' electric vehicle charging information to build a home charger sharing economy, charging point payment/management, and charging network real-time information systems. The home charger sharing economy system allows customers to monetize the electric vehicle chargers they have installed at home by sharing them with third parties. The customer's charger is always visible to the NaaS's real-time charging station search network, and vehicles that need to charge can do so after paying the fee. "We will provide more convenient charging services for EV users in China. This cooperation will help take Hyundai's global EV competitiveness to the next level." said Hyukjun Lee, Director of Hyundai Motor Group.
지윤석 기자 jsong_ps13@naver.com
<저작권자 © 월간파워코리아, 무단 전재 및 재배포 금지>