Woodeumjee Farm (CEO Kang Seong-min) is an agricultural corporation that is leading the innovation of 'K-Smart Farm' by developing semi-enclosed glass greenhouses suitable for the domestic climate and situation. The nation's best smart farm facilities here are equipped with scattered light glass that transmits up to 97% of light. The LED reinforcement lights are also installed inside the greenhouse to supplement the light even in winter and at night on cloudy days to promote growth. Air-heated heat pumps not only reduce costs by controlling heating and cooling, but also contribute to the creation of profits with an eco-friendly contrl system and carbon credits.
The competitiveness of this smart system is that it is semi-enclosed and has an excellent effect of blocking the inflow of polluted air or pests from the outside. The greenhouse area alone is 11.5ha, and the ICT automatic environment control system manages temperature, humidity, CO2, and internal wind direction, and supports the optimized operation for growth, cultivation, and harvest. It boasts an eco-friendly smart farm equipped with a nutrient solution filtration facility that can recycle 100% of the nutrient solution.
Tomango that captures both health and taste
Inquires from all over the world including UAE and Malaysia
Woodumgee Farm launched the Tomango, which means 'a tomato as sweet as mango', and is gaining great popularity as a product that captures both health and taste. Tomango has added stevia, a natural sweetener approved by the FDA. Stevia is not absorbed by the body, so it does not raise blood sugar, but it maintains a very high sweetness level. For this reason, it is loved by many as a delicious healthy diet food.
Tomango is sold through various large retailers such as E-Land, Lotte Mart, E-Mart 24, Coupang, and Mini Stop through a stable production system. Alongside Tomango, Jujube cherry tomatoes, campari tomatoes, and ripe tomatoes produced throughout the year at the nation's largest smart farm facility are also being loved steadily. October of this year, the company launched Stevia Dalbalm and Stevia Collabi to diversify the choices. Stevia Dalbalm reduced the characteristic bitterness of chestnuts and enhanced the refreshing feeling. Stevia Collabi preserves the sweet pear taste and crunchy texture.
Woodumgee Farm is also spurring overseas exports. In December of last year, 50 tons were exported to Japan, and 300 tons are expected to be exported this year. Tomango is receiving inquiries from various countries such as the Middle East, Southeast Asia, Malaysia, Saipan, Hong Kong, and Singapore. The company currently has signed a MOU with Malaysia and visited Dubai, UAE at the end of October to make a deal. Woodumgee Farm plans to establish corporations in 16 countries, including the United States and Japan not only to promote its products but also its smart farm technology.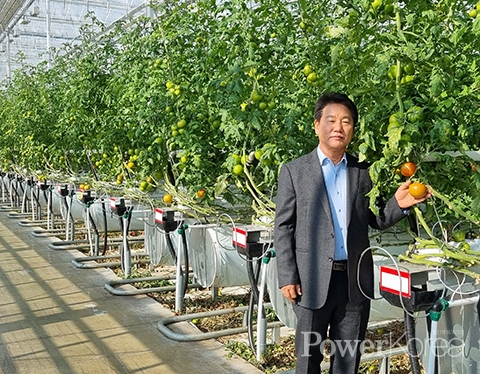 ▲ Woodumgee Farm / CEO Kang Seong-min
ISO9001 and Rural Convergence Industry Certification
Woodumgee Farm has upgraded its GAP (Good Agricultural Product) certification a level, acquired Hazard Analysis and Critical Control Point (HACCP) certification, and obtained ISO9001. Using this as a stepping stone, Woodumgee Farm has gone one step further from an agricultural corporation and is expanding its business into various fields such as tourism, education and lodging. As part of that, in April of this year, the 1st family company agreement was signed with the Industry-Academic Cooperation Foundation of Korea National College of Agriculture and Fisheries. It has also signed an agreement with Yonam College, and is putting great effort into nurturing professionals. Woodumgee Farm plans to sign an MOU with Seosan Bio City in the future and build a smart farm on a site of 198,347 square meters to grow tomatoes, European-style vegetables, and special crops. In addition, the company is actively participating in ESG management and is adding value as a company that can contribute to society by providing eco-friendly, socially responsible management and transparent governance. CEO Kang Seong-min says "This year, we were able to spread our competitiveness through Tomango's product power as well as our excellent smart farm technique. Receiving Trade, Industry and Energy Ministerial Prize at Innovation Winner 2022, in particular, will play a springboard for us to fly higher as a K-smart farm and K-food company. We will keep pushing forward our passion and cutting edge smart farm tech to grow our business globally."
강민지 기자 powerkorea1004@naver.com
<저작권자 © 월간파워코리아, 무단 전재 및 재배포 금지>