Yoon attends opening of World Bio Summit 2022
The World Bio Summit was the first international event jointly hosted by Korea and the World Health Organization (WHO) and opened at Grand Walkerhill on October 25th.
The event was attended by about 300 key figures from home and abroad, including the President of Nigeria, the President of the Asian Development Bank (ADB), and former UN Secretary-General Ban Ki-moon, as well as health ministers of three countries, representatives of international organizations, and global vaccine and bio companies.
At the opening ceremony at 2 pm on the first day, President Yoon Seok-yeol, Nigerian President Muhammadu Buhari, and WHO Secretary-General Ghebreyesus delivered the opening remarks and congratulatory speeches via live video. ADB President Masatsugu Asakawa and Ban Ki-moon, chairman of the Ban Ki-moon Foundation for a Better Future also attended and gave congratulations. The keynote speeches were delivered by Richard Hatchett, CEO of the Coalition for Infectious Disease Innovations (CEPI) and Jerome Kim, Secretary-General of the International Vaccine Institute (IVI).
Yoon said "Korea is doing its best to nurture the bio-health industry along with technological innovation for vaccines and therapeutics. We will establish an innovative R&D system for diseases that mankind has not yet solved, such as emerging infectious diseases and rare incurable diseases, and strengthen financial support by establishing an investment fund in the bio sector. This year, the Republic of Korea has succeeded in developing a COVID-19 vaccine, and will contribute to ensuring equal access to the vaccine by providing the produced vaccine to countries in need. In order to solve the common human task of responding to global infectious diseases, the international community must come together and work together. The Republic of Korea will protect the freedom of global citizens through technological innovation and actively participate in the efforts of the international community to strengthen the global health system based on the spirit of solidarity."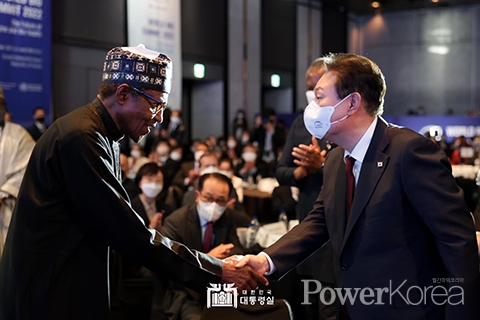 Representatives from major global pharmaceutical companies at home and abroad, such as Pfizer, Moderna, SK Bioscience, and MSD (Merck), attended the following corporate representative session to share experiences they learned from COVID-19 and discuss ways vaccine and bio companies can contribute to overcoming the global health crisis. On the second day, the 26th, the 'Seoul Declaration', which was completed based on the support of the WHO, was proclaimed. The declaration included ∼global cooperation ∼human resource training ∼R&D supply chain ∼regulatory improvement. Participants discussed on ∼Efforts to respond to COVID-19 in each country, expectations for messenger ribonucleic acid (mRNA) technology transfer hub and global bio manpower nurturing hub ∼Vaccine and therapeutic R&D investment strategy to prepare for post-coronavirus ∼The need for international efforts and cooperation to respond to the pandemic ∼Vaccine department manager (materials, parts and equipment) ∼Global diagnostic device development status and prospects ∼Vaccine and biopharmaceutical regulatory cooperation. Second Vice Minister Park Min-soo of the Ministry of Health and Welfare introduced Korea's efforts to respond to COVID-19, and announced the results of domestic vaccine and treatment development, the current status of education as a global bio manpower nurturing hub, and future plans. Tunisian Health Minister Ali Mravet and Argentine, Egyptian and Serbian Health Ministers and Deputy Ministers also announced their achievements and future plans. The World Bank, Asian Development Bank, and African Development Bank announced the role and future plans of international organizations to prepare for the pandemic and infectious diseases. Minister Cho Kyu-hong and El Salvador's deputy health minister Carlos Gabriel Alvarenga Cardoza discussed ways to cooperate in the field of bio and digital health on the same day and discussed future health and medical cooperation plans between the two countries.
Korea-Nigerian Summit
President Yoon Seok-yeol held a summit meeting with Nigerian President Muhammadu Buhari on October 26 and discussed ways to expand cooperation between Korea and Nigeria, including cooperation in the defense industry. President Buhari visited Korea for the first time in 10 years to attend the World Bio Summit in Seoul. While welcoming President Buhari, President Yoon expressed his condolences to the Nigerian people who have recently suffered record-breaking floods. Yoon said "Nigeria has the largest economy among African countries, and as a cultural powerhouse, it has both economic and cultural capabilities, contributing greatly to exchanges and cooperation between the two countries. Just as the Korean Cultural Center was established in Abuja, the capital of Nigeria for the first time in Africa, the Korean government will strive to further expand exchanges and cooperation." Buhari said "When I came here, I got the impression that it was a fantastic country. Thank you for your words of consolation regarding the recent flood."
The two leaders discussed ∼Strengthening institutional economic cooperation mechanisms by facilitating the entry into force of the Double Taxation Prevention Agreement ∼Strengthening corporate safety activities through countering piracy in the Gulf of Guinea ∼Defense industry cooperation ∼Cooperation in the international community including the United Nations. After the meeting, President Yoon met with Richard Hatchat, head of the CEPI. Yoon said "CEPI has contributed to the establishment of global health justice by helping the research and development of new infectious disease vaccines and providing vaccines to low-income countries by ensuring equal access to vaccines to global citizens. We actively support CEPI's activities and hope to strengthen cooperation to respond to future pandemic. Korea will work together to realize global health justice. In the future, we will provide necessary support to strengthen cooperation with the international community, such as CEPI."
CEPI has provided $260 million for research and development of vaccines such as Skycobi One, the first domestic vaccine developed this year. On the 25th, it additionally signed an agreement with SK Bioscience to support $140 million in mRNA vaccine platform research and development.
백종원 기자 bridgekorea@naver.com
<저작권자 © 월간파워코리아, 무단 전재 및 재배포 금지>