Koreans have long loved beef ribs. Because the price of beef has always been expensive, people ate pork ribs as an alternative to beef ribs. Among the various dishes themes on beef, the best food loved by Koreans is beef ribs. Grilled ribs were commercialized through popular restaurants around the mid-1920s. In particular, Suwon, Gyeonggi-do, where there used to be a large cattle market, is called the holy land of Korean ribs. In recognition of its taste and uniqueness, Suwon grilled ribs was designated as a unique local food by the city in 1985.
It is not surprising therefore that there are more galbi restaurants operating in the city. Among them, Kabojung (CEO Kim Oe-soon), located in Ingye-dong, Paldal-gu, Suwon, is the best. <PowerKorea> paid a visit and met Kim.
Kabojung, a holy place for galbi gourmets nationwide
Kim, the first person to be selected as a master of 'grilled ribs' in Korea, has been running Kabojung for 30 years and has turned the place as the best rib restaurant in Korea. Gari is an old word for ribs, and gari-gui is recorded as a traditional Korean food through the 'Sijeonseo' and various ancient documents written in the late 1800s. Master Kim has been running Kabojung for a long time just like the recipe of traditional ribs passed down from her mother when she was young, and was selected as the 89th master (grilled ribs) last year. Despite the recent surge in the number of franchise restaurants in the food service sector, Kabojung operates exclusively as a directly-managed restaurant, and with the best cuisine and service, it is spreading its reputation as a must-see restaurant not only in Seoul and Gyeonggi-do but also in the whole country.
About 3,000 customers on weekdays and 5,000 customers on weekends
Aggressive business policy and staff welfare makes Kabojung today
The beginning of Kabojung dates back to 1992. Kim started the business by renting a store of 164 square meter at the current location, and in the early days suffered from operational difficulties to the extent that he had to borrow bonds to pay the employees' salaries. Then, in 1997, when the Asian financial crisis occurred and the entire nation was engulfed in chaos, Kabojung launched Korea's first rib-grilled lunch menu and began to attract customers. As rumors spread that delicious galbi could be eaten at an affordable price, word of mouth began to spread among nearby office workers, and as time passed, it became famous as a nationwide restaurant. At a time when everyone was reducing their businesses due to the financial crisis, Kim turned the crisis into an opportunity through aggressive counter-investment. Since then, the business has grown explosively, renting the building, and then purchasing the building and using the entire floor as a store. As the number of visitors increased and there was not enough parking space, the current building 2, located across the street from the main building, was purchased and used as a parking lot and a restaurant. In order to alleviate the inconvenience of customers coming from afar, the business site was expanded to the 4th building in Suji, Gyeonggi-do. About 3,000 people visit on weekdays and 5,000 customers on weekends, and about 250 employees are resident. Buildings 1 to 3 have a total of 1,400 seats, a 230-seat banquet hall, and a parking lot in Buildings 2 and 3 and on a street. Although Kabojung has established itself as the nation's largest ribs restaurant, there have been many crises and twists and turns over the past 30 years. Despite large and small crises such as the financial crisis and mad cow disease, Kim overcame crises with aggressive business policies and employee welfare policies, and is on the road to success by establishing itself as the nation's largest ribs restaurant with the highest quality ingredients and customer service comparable to a hotel.
▲ Kabojung / CEO Kim Oe-soon
Mouth melting 1++ Korean beef, just squeezed sesame oil-like meat juice
Excellent flavor in harmony of salt and sweet
Even with an aggressive operation and the best customer service, you can never be chosen by customers without the taste of the food. Kabojung's food has many special features. The finest 1++ Korean beef supplied from all over the country has been added with the specialness that Kim, a master craftsman, inherited from her mother when she was young. Kabojung's most popular menu is Korean beef ribs. Like the finest Korean beef, the meat melts as soon as you put it in your mouth, and at the same time, the juice that comes out of the meat has a savory taste like freshly squeezed sesame oil. When I (the reporter) tasted it, the taste of raw beef is unmatched, so excellent that as soon as you put a piece of meat in your mouth, your eyes will naturally close. Korean beef ribs made with seasoned garlic and seasoned with cheoncho (sancho, zepi) are also popular menu items. The seasoned ribs here use a unique cooking method that cannot be found anywhere else. The secret is not to marinate the meat in a liquid seasoning, but to sprinkle dry seasoning powder on the meat to ripen it. Various seasonings such as juices and sesame oil are mixed with cheoncho and sprinkled over raw meat, which make it completely different from the traditional seasoned ribs we know. All the work is done by hand here. Of course it tastes great too. You can feel the soft taste of the meat, and there is no chewiness at all when you chew it. The taste of the seasoning is not strong, but is excellent, and the harmony of salty and sweet taste is amazingly harmonious. Kim said, "My mother liked to use cheoncho for cooking. The same was true for seasoning the ribs. Since cheoncho has a strong scent, it is important to adjust the proportions so as not to spoil the taste of the ingredients when using it as a seasoning, and this is our secret. I know that Kabojung is the only one that puts cheoncho in ribs."
A variety of delicious sides also attracts gourmets
The savory side dishes that come with the ribs are so diverse and delicious. The ten or so side dishes served with the main menu are of such excellent quality that it overshadows ribs all developed by Kim. Kim not only studied side dishes, but has also been in charge of the kitchen since 30 years ago and has been staying in the kitchen every day. Impressed by the high-quality ingredients and excellent taste of food, as well as the customer service that is as good as the hotel, dinners come constantly whether weekends and weekdays. During lunch and dinner time, there is always a wait, and for about 60 private rooms, you must make a reservation. Although there are not many single rooms, the number of reservations is so high that they are taking reservations for the first and second slots during lunch and dinner hours. The private room was always full even during the peak of the pandemic, and what's even more amazing is the fact that at that time, Kim raised the salaries of the employees for the welfare for encouragement.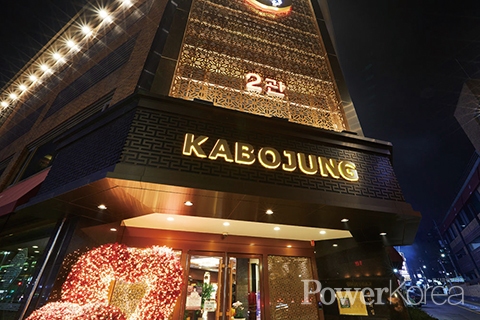 Taste and historical value recognized
Gari Gui chosen by Ministry of Agriculture, Food and Rural Affairs
Kabojung has established itself as a popular attraction not only for the general public, but also for athletes and celebrities in the political and business world thanks to the unwavering sincerity and effort of master Kim Oe-soon. The taste and historical value of ribs were also recognized, and in 2021, the Ministry of Agriculture, Food and Rural Affairs designated Kim as Korea's Food Master (Gari-grilled) No. 89. Food Masters is a system that designates and fosters food masters with excellent skills in the manufacturing, processing, and cooking fields of traditional food since 1994. To be selected as a food master, you must directly operate the relevant restaurant business for 30 years, and you will be selected through strict screening by professors and executives. Gari is the old language of ribs, and in modern times it is called ribs and beef ribs.
Dreaming of spreading Kabojung to the world
If you are designated as a food master, you can display and sell the products made by the master at the food master experience and publicity center, and you will also receive benefits from various support projects, such as the reward system for trainees, participation in the Chuseok holiday exhibition, and consulting. As part of such a support project, Kabojung received explosive attention from visitors at the '2022 Hangawi Master Gift Exhibition' held last month, and Kim's daughter Lee is succeeding the mastermanship. At the same time, the Ministry of Agriculture, Food and Rural Affairs is promoting a documentary project that produces documentary images and books so that the masters' traditional recipes and history can be preserved and left for future generations.
Although Kabojung's current sales have grown significantly over 40 billion won a year, Kim does not stop there and is making another plan. Now that the K-food trend is spreading around the world, she wants to show the excellence of authentic Korean food to the world. Kim said, "As long as health allows, I will try to provide the best food and customer service to our customers, and if the opportunity arises, I want to introduce my excellent ribs to the American market."
신태섭 기자 tss79@naver.com
<저작권자 © 월간파워코리아, 무단 전재 및 재배포 금지>