To explain Socheon's work, 'diverse materials of consistent emotions' would be the most appropriate. The color is clean and simple, but the texture is fun. She combines them into abstract art by making letters and pictures different. By dismantling the shape of the handwriting, geometrically transforming and simplifying it, artistic creativity for reconstruction is improved. As a result, these works ignore perspective, combine types and metaphors, and move beyond the relationship between humans and nature and humans and matter to create a universe. <excerpt from a review>.
Sochun Gallery
The Socheon Gallery in Daegu is run by the artist and it means 'gathered energy in a small universe'. The 198 square meter gallery stands in the middle of a 2,314 square meter vegetable garden. Entering the gallery, I saw her abstract works recently finished hung on the walls. The colors were warm and the energy exuberant. Traveling toward north from here is a private residence of former president Geunhye Park and making the travel further is Songhae Park, a famous music show host, who recently passed away. Not far from the gallery towards south is Lake Dalchang famous for beautiful flowers, trails and driving routes. The Sochun Gallery is surrounded by these beautiful sceneries and a famous residence and a park.
Artist Socheon and her works
Socheon held a solo exhibition last May at the Daegu Arts Center under a theme <Heaven, Earth and Man: Creation of Energy>: she displayed her haven, earth and man series (Korean alphabets into shapes) and <Deunggo> (Chinese characters). Socheon has polished up her skills on calligraphy, wood carving and painting for a long time. She values an art's function of amusement and embracing a spirit of the time while plays with 'no shapes in shapes and shapes invisible' in her works. Her <Creation of Energy> series, <Circulation Energy>, <Bluebird Flying> and <Communication> are consisted of dots, lines and surfaces which are relatively new. Also the methods recently applied are sticking Korean papers onto canvases and panels to enliven the textures of the materials including acrylic and ink. These new applications are received as 'a modernization of traditional calligraphy' from critics and she has earned a nickname 'a colored abstract artist'.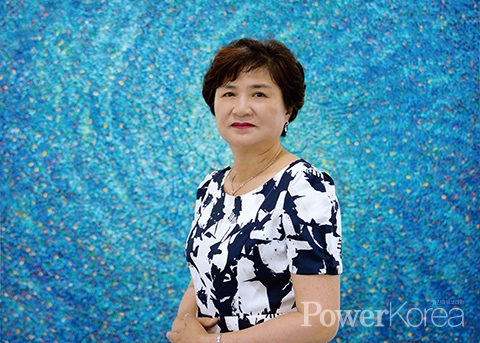 ▲ Abstract Artist Nansook Son aka Sochun
Socheon as a colored abstract artist
Socheon wanted to learn the stage beyond shapes by experience in restrained and consistent tones or emptying and filling the screen so that her works seem to be creating a universe. She calls herself neither a Korean painting artist nor a western. This is because she does not much care about the borders between genres but focuses on creating her own works to a certain level. Taking nature as her friend, she delivers momentary inspirations onto canvas for each work. She currently is working on 'Songs of Nature' series which well suits her character. The Socheon Gallery is set to open this autumn. Visitors might expect a chorus of grass bugs gathered around the gallery where the blue sky and white clouds are floating above. I feel that it is not only me who are looking forward to seeing her works this autumn. <PowerKorea>
홍기인 기자 forum1004@naver.com
<저작권자 © 월간파워코리아, 무단 전재 및 재배포 금지>