Hongsam, red ginseng, is one of the most popular health supplements in South Korea. People have taken it from long time ago either raw or decocting and it is made into extract, powder, jelly and snack for an easy take. However, people who stick to traditional way of making argue that these convenient making methods can take away its original taste and smell as well as a possible change of components during the making and distribution processes.
To make a red ginseng product, one must heat up a fresh ginseng and dry it. Red ginseng is better in preservation and medicinal effect than fresh ginseng which is a reason that the industry is booming.
▲ Eosaengdang / CEO Kitaek Choi
"If you pay attention to functionality part of all red ginseng products in the market, you can recognize that immunity boost is most frequently mentioned. Immunity is a defense system our body protect us from harmful substances such as germs, viruses, etc. In this respect, it is noteworthy, especially in this time of the pandemic, that Koreans have taken ginseng from long time ago" says Kitaek Choi, CEO of Eosaengdang.
Choi points out that the ginseng just been decocted and the ginseng after several days or moths are different. It is regretful also that many red ginseng products on the market emphasizes ginsenoside like it is everything about ginseng but it is only a part of many elements.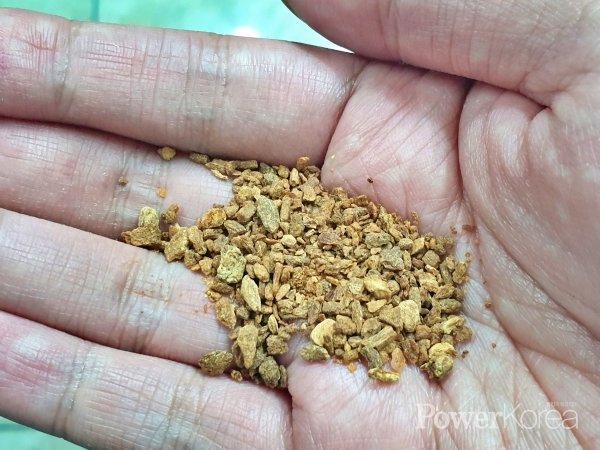 "The important thing is that we should intake as many elements of ginseng as possible, but not how much ginsenoside is there alone, to see its effect. There was a reason that people in the past decocted red ginseng for 15 hours at 75℃ fire while other herbs were normally taken around 1 to 2 hours. This is because cytoderm of red ginseng is so firm and eating raw could not be as effective. And they somehow knew this and chose a slow boiling (decocting) instead. We paid attention on this factor and eventually succeeded removing cytoderm with our advanced modern technology. All Heart is the very result of this passionate research and development. In other words, All Heart red ginseng contains all elements a red ginseng has as well as the original taste and smell."
The images on the side show before and after of dissolution observed with a SEM microscope by 600 times. The particles are rough before and they are homogenized after. The cytoderm and starch have become scattered and dissolved by physical shearing force and heat.
The containment of crude saponin was increased by 6.5%. Rb1, Rb2, Rc, Re and Rg1 were reduced a little but Rd and Rg3 increased. Rg3 especially increased significantly to 0.72mg/g from 0.49mg/g. The soluble total sugar turned out similar before and after but acidity and polysaccharide were reduced to 7.15% and 6.44% respectively. The total phenol was increased to 9.94% from 7.86%. Gentisic acid was found in the red ginseng not treated but salicylic acid in the red ginseng after treated. Gallic acid, p-coumaric acid, caffeic acid and feruli-cacid were reduced significantly after treated while syringic acid was increased 6 times. Peptic digestion before and after showed 22.4% and 46.2% respectively. These figures show that the cytoderm treated red ginseng can have increased biologically active substances, palatability and digestion.
All Heart red ginseng products are made of 100% 6 year old red ginseng grown homeland. It keeps original taste and smell and can be eaten as a tea any time anywhere depending on your body condition. But taking before bed is not advisable as it can affect sound sleep. The allowance is twice a day based on 2g.
"With these excellent test results, we are determined to release All Heart no later than early next year so that people can have a better option to choose among many red ginseng products already on the market" says Choi.
지윤석 기자 jsong_ps13@naver.com
<저작권자 © 월간파워코리아, 무단 전재 및 재배포 금지>