Royal embroidery has been practiced among women in the palace in South Korea. The patterns and designs often symbolize authority of the power, longevity of the king and reign of peace. At the age 24, Lee Byeong-sook had a moment to see the charm of a royal embroidery work on a folding screen. Deeply impressed by it, she knew what she wanted to do with her life and has never looked back once for the next 40 years.
She was the one who made the folding screen installed in the banquet hall of the new building of the Blue House in 1991. The waiting room right next, she also hung one of works and in recognition, she received an appreciation plaque from the president. In 2008, the Unicef chose her work <Lotus Phoenix - Peace> for its Christmas cards to create fund. <PowerKorea> met her and heard about the story.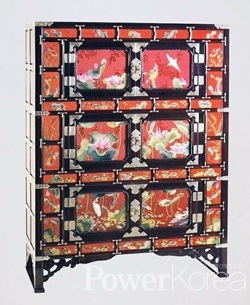 ▲ Three-story Lotus EmbroideryKorean War Victory Crafts Competition, Award-winning Works
Reporter: How did you come to royal embroidery?
Lee: I was just enchanted by the charm of its beauty at first sight. It was 1974 that I encountered it by chance at Jogye Temple Sulimwon. I took a course at the Sulimwon instantly and learned skills under the instruction of deceased Han Sang-su, an intangible cultural asset in embroidery. I learned like an apprentice and I never regret of my 40 years career ever since.
R: What makes Korean embroidery different from China?
Lee: Chinese embroidery has realistic colors and it values highly of detail and perfection. Korean embroidery on the other hand is relaxing, elegant and rich. The former certainly has influence on the latter but the Korean embroidery steadily formed its own characteristics and sentiment with Korean landscapes and objects. For this reason, Korean embroidery is unique in the world.
▲ Nongak Island, which was produced as an art piece during the construction of the new Cheong Wa Dae in 1991, and Lee Byung-sook were awarded a plaque of appreciation by the presidential office for the "Jinyeon Island Byeongpung" and "Nongakdo."
R: Tell us about the works installed at the banquet hall of the Blue House.
Lee: After 15 years of my career, I displayed a work at the Korea Annual Traditional Handicraft Art Exhibition in 1989 and received a ministerial prize from the Ministry of Culture, Sports and Tourism with which I earned the opportunity. I depicted lives of the Korean palace from costume to food and entertainment like music and dance. It is regretful however that I had not received due payment of my work and labor from the Blue House for the next 10 years. Blue House is the top administration office of the nation and where high foreign officials come and go. I still do not understand how they treated an artist that poorly since I had this sense of duty to spread beauty of Korean art.
▲ At a ceremony hosted by the Seoul Metropolitan Government to celebrate King Jeongjo's reign. Lee Byung-sook participated as Hyegyeonggung Hong.
R: Selection of national intangible asset takes place next year. What is your opinion about the selection?
Lee: I think the screening must be thorough and fair. It must reflect one's knowledge, understanding, skills and above all devotion and distribution to the respective field. As for my self, I'm planning to publish a catalogue of my works and life as an embroidery artist since 1979. I'm thinking around this autumn to print.
R: Please leave a word for PowerKorea readers.
Lee: Korean embroidery has a long history and was often sent to VIPs as a valuable gift. I found a great pleasure in it and I have walked the path for almost entire of my life. Of course it has been a rocky road but I never regreted. I will keep marching forward and deepen my creative zeal and executions for myself and for beauty of Korean arts.
지윤석 기자 jsong_ps13@naver.com
<저작권자 © 월간파워코리아, 무단 전재 및 재배포 금지>